2019
Nov. 19 - Installed New Inside Camera
Mid-Nov. - Gertrude starts coming more into the Nest Box
Mid-Dec. – Gertrude starts nesting
Dec. 17 – Gertrude Calls Gerald to Bring Food
2020
First Clutch
Jan. 3 – 1st egg laid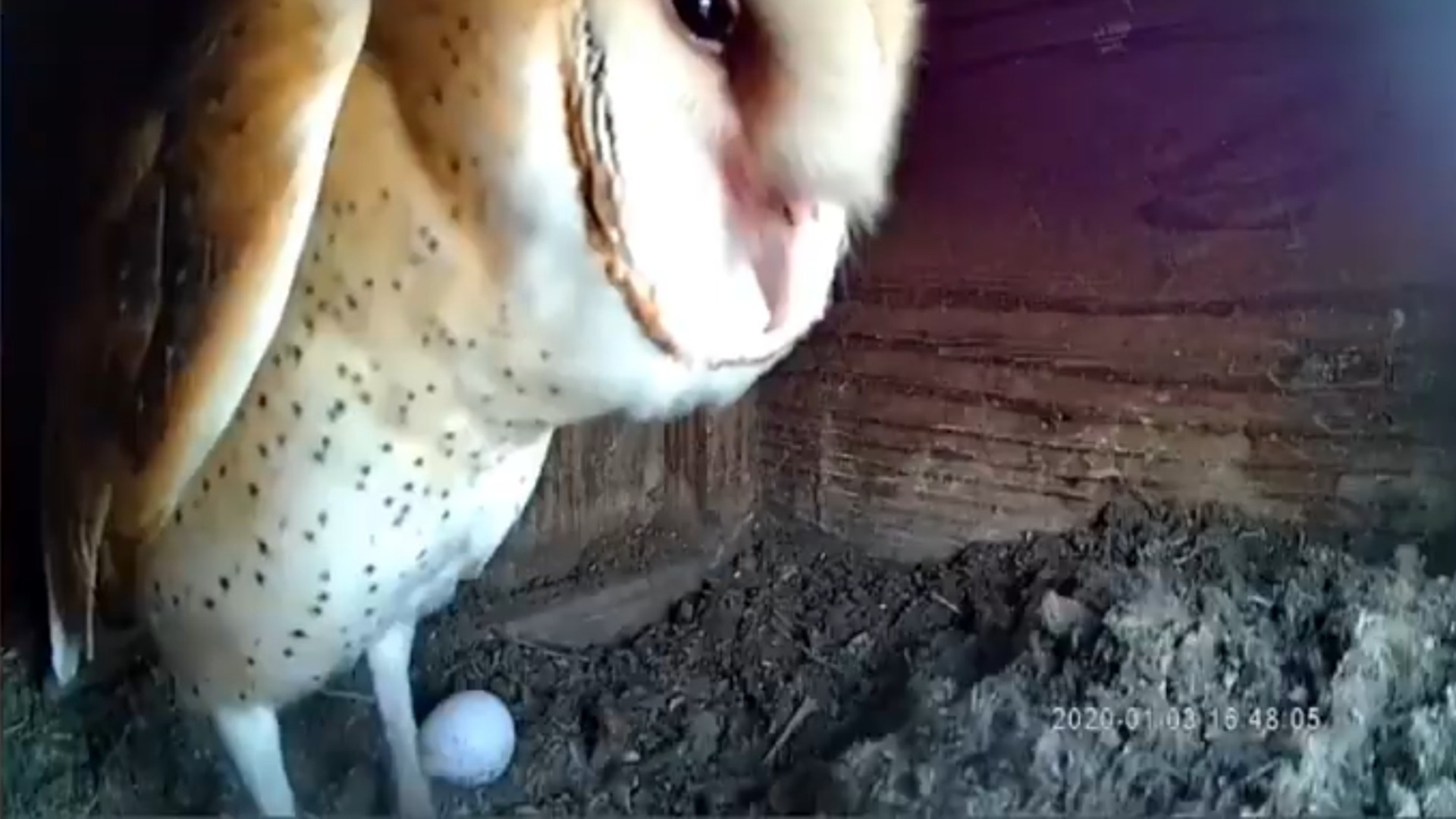 Jan. 6 – 2nd egg laid
Jan. 8 – 3rd egg laid
Jan. 10 - 4th egg laid
Jan. 12 - 5th egg laid
Jan. 15 - 6th egg laid
Jan. 17 - 7th egg laid
Feb. 6 – 1st Hatch - Gidget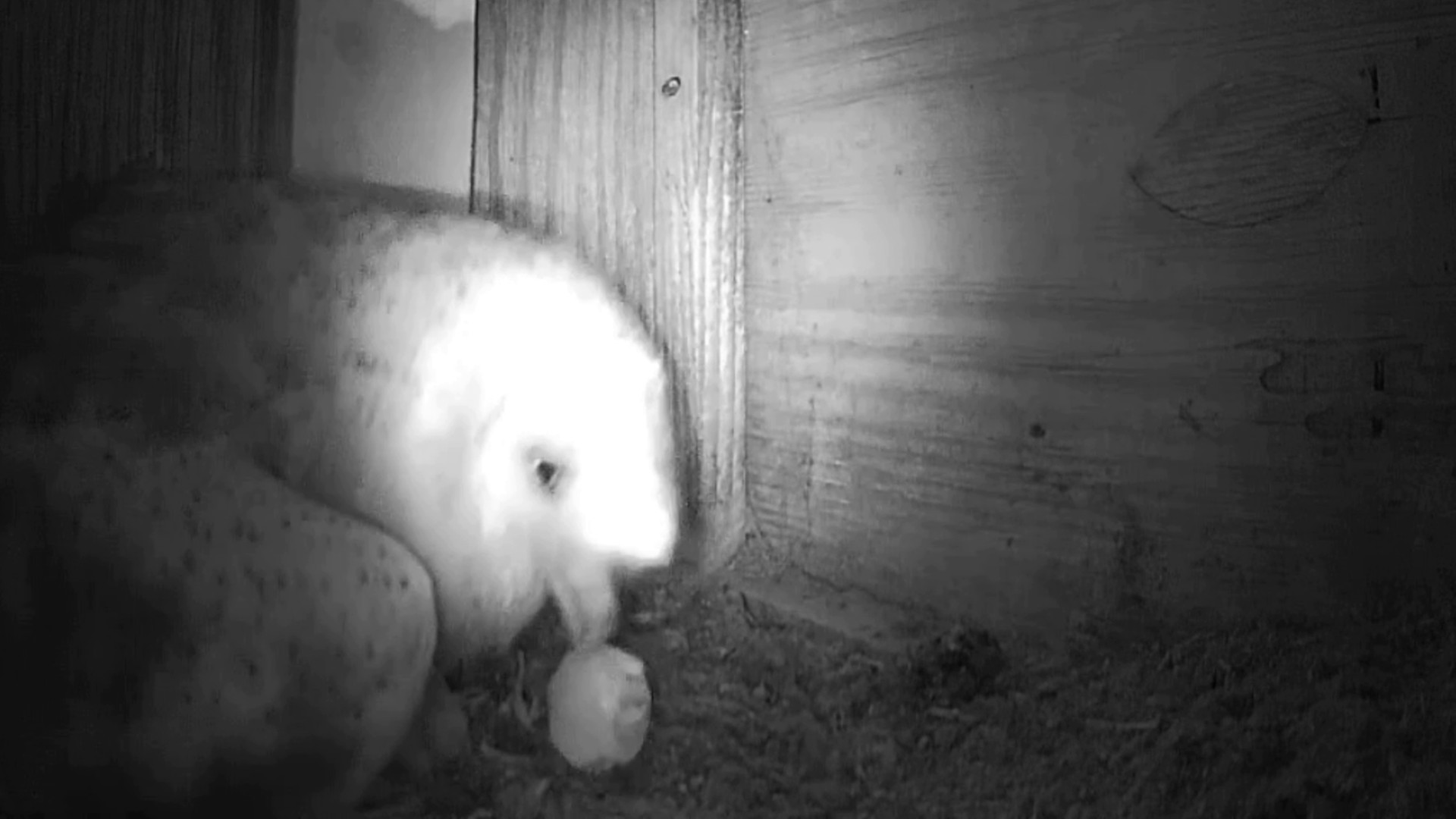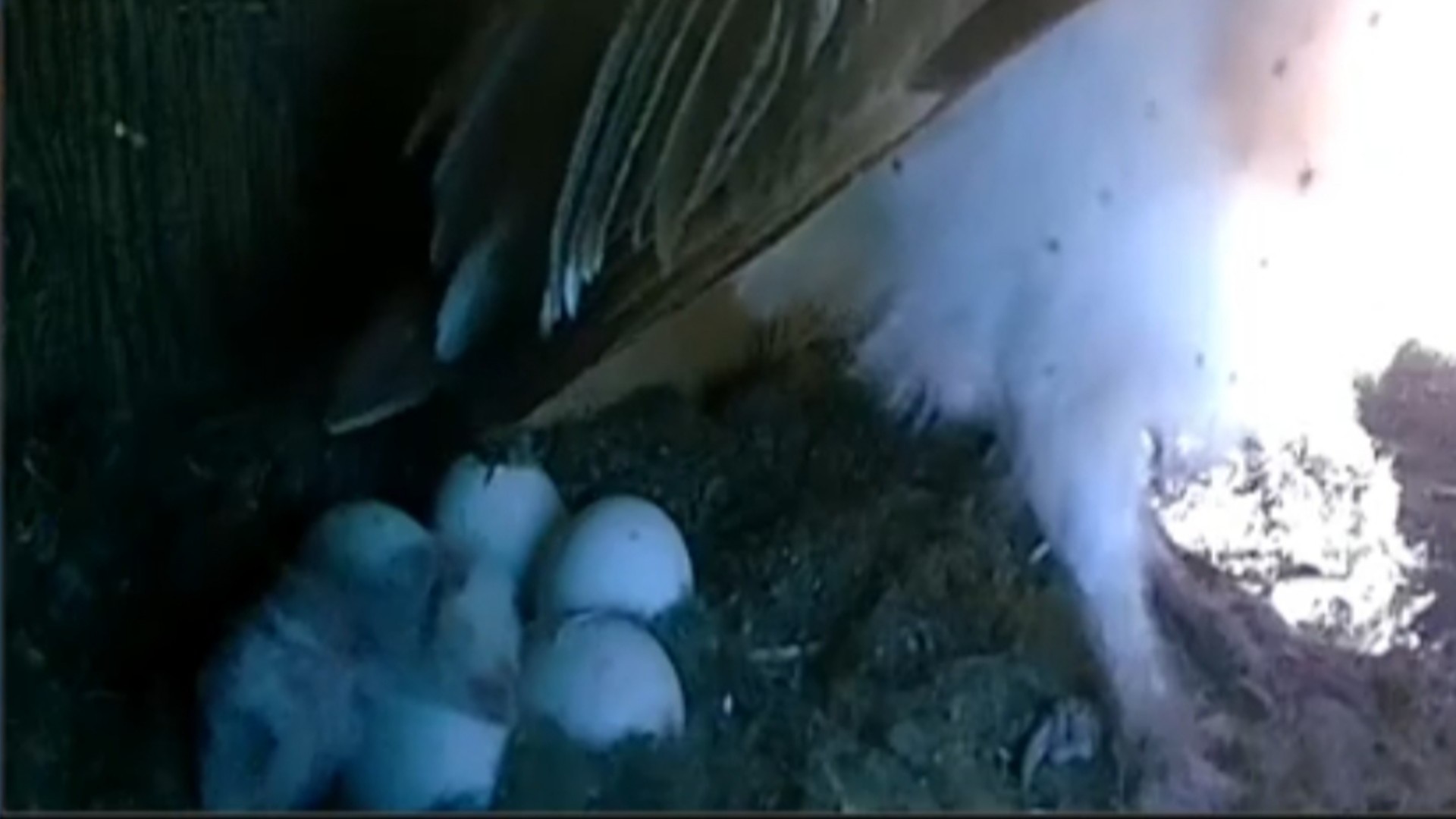 Feb. 7 – 2nd Hatch – Geoffrey
Feb. 9 – 3rd Hatch – Gerry (male)
Feb. 11 – 4th Hatch - Gwen
Feb. 13 – 5th Hatch - Gary
Feb. 14 – 6th Hatch – Ginger (Ends up being a male - Gin)
Feb. 18 – 7th Hatch - Groot
Feb. 29 – Gertrude leaves nest to help Gerald with hunting but returns during the day
March 14 – Gertrude doesn't come back to nest in the morning
Apr. 3 – 1st Owlet Fledges @ 2:08am (57 days old)
Mom flies in to help
2nd Owlet Fledges @11:31pm (55 days old)
Apr. 6 – 3rd Owlet Fledges @ 22:53pm (56 days old)
4th Owlet Fledges @ 23:27pm (54 days old)
Apr. 11 – 5th Owlet Fledges @ 3:16am (57 days old)
Apr. 13 – 6th Owlet Fledges @ 19:43pm (58 days old)
Apr. 16 – 7th Owlet Fledges @ 11:18pm (57 days old)
Apr. 17 – 1st time Mom and Dad come back into the nest after babies fledge in the early evening - mate
Baby #6 comes in after Mom and Dad and is aggressive towards mom
Apr. 18 – G & G back in box at dusk…aggressive baby comes back in again
Apr. 20 - After babies leave nest, mom and dad come in & mate. then #6 comes in and is aggressive again
Mom protects herself & leaves
Apr. 23 (am)– Dad brings in food & mom follows - mate. Gertrude looks like she's starting to prepare for nesting again
Male Owlet (#6 - Gin) steals food & is very aggressive towards mom and afterward mom has eye injury
(pm) - Dad comes in to be with mom but baby continues to be aggressive & gets between them
Apr. 24 pm - Mom & dad in box & meet with more aggression. Later, baby leaves & mom cleans
Apr. 25 – 1st morning with no babies in the nest box
Apr. 27 – Gertrude is back in the nest box
Second Clutch
May 5 – 1st egg laid - Gertrude comes back in box during day to lay egg
May 8 – 2nd egg laid
May 10 – 3rd egg laid
May 12 – 4th egg laid
May 14 – 5th egg laid
May 16 – 6th egg laid
May 20 – 7th egg laid
June 8 – 1st Hatch – Galaxy Galileo
June 10 – 2nd Hatch – Giana (Ends up being a male - Giovani)
June 12 – 3rd Hatch – Giselle (Ravens disconnect wires - no video)
June 13 - Gertrude leaves nest - had to reset cam connection
June 14 – 4th Hatch - Gracie
June 20 – 5th Hatched Late – Gabby
June 25 - Lost Gabby early…she was just too young and weak to make it
End of June – Last two eggs don't hatch - not viable
July 5 – Lost Baby owlet, Giselle
She was not the littlest - too big. Unsure of why except that it could have been the heat or that the parents had stayed away till later on the 4th because of the fireworks (we think) & didn't bring much food...could have been either or both
She ends up passing on in the afternoon and mom finds her expired
July 11 – Baby owlet, Gracie, falls out of nest box 5pm because of heat
She is taken to wildlife rehab, but she doesn't make it
July 12 – Another baby owlet, Giovani, jumps out of nest box 3:48pm
He is not injured so is able to be placed back into nest.
We end up taking both babies out of the nest until later when it cools down and before mom shows up to feed
July 24 - Gertrude is still coming into the box to help the babies eat & break off smaller pieces for them
Aug. 12 – 1st owl fledges (65 days old)
Aug. 14 – 2nd owl fledges (65 days old)
Sept. 6 – No Babies in box in the morning - They still come back to the box at dusk calling for food
Sept. 8 - G & G come beck to the back with sweet callings after 2nd clutch fledges 
Sept. 9 - Galaxy comes into box with a neck injury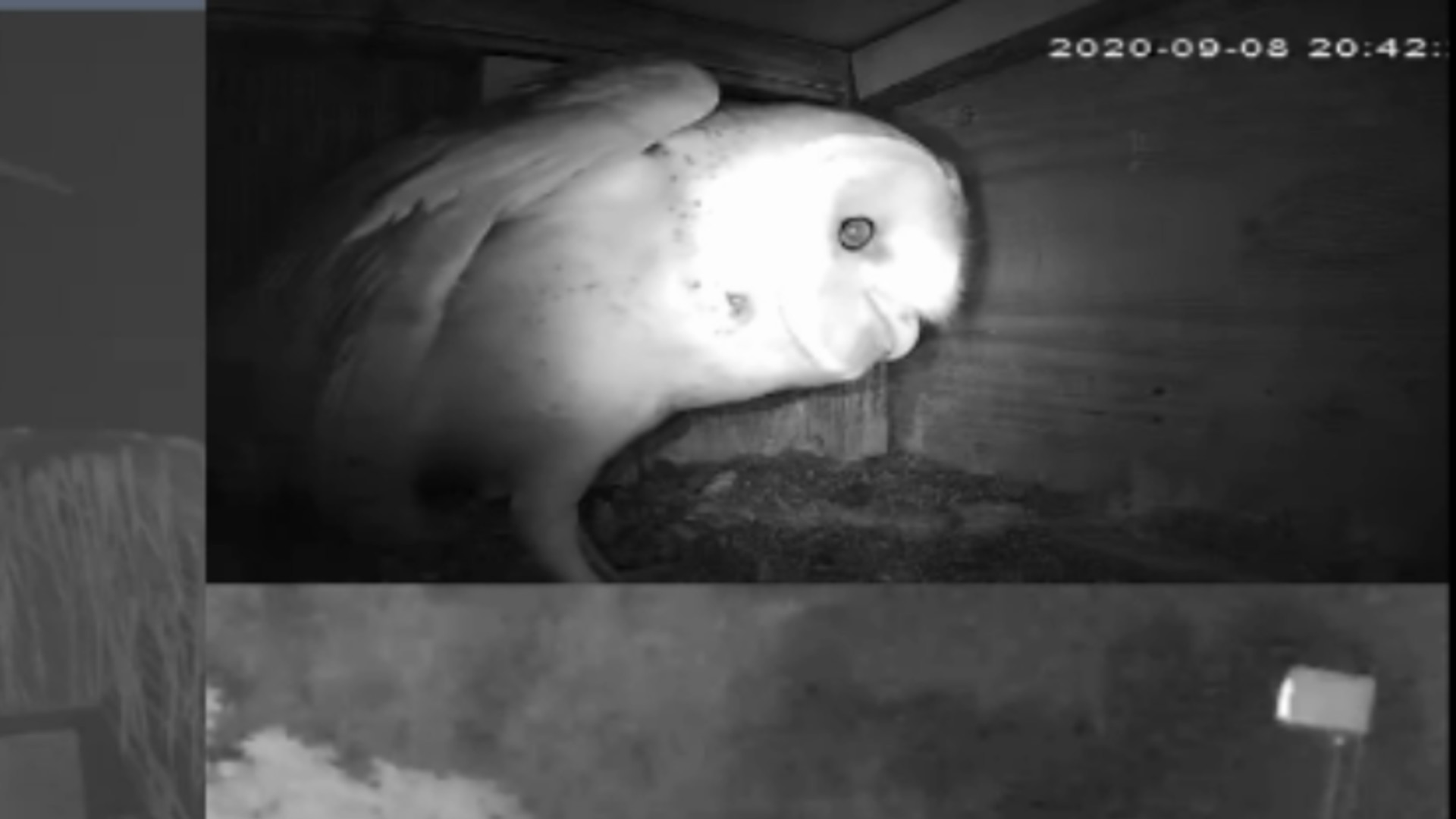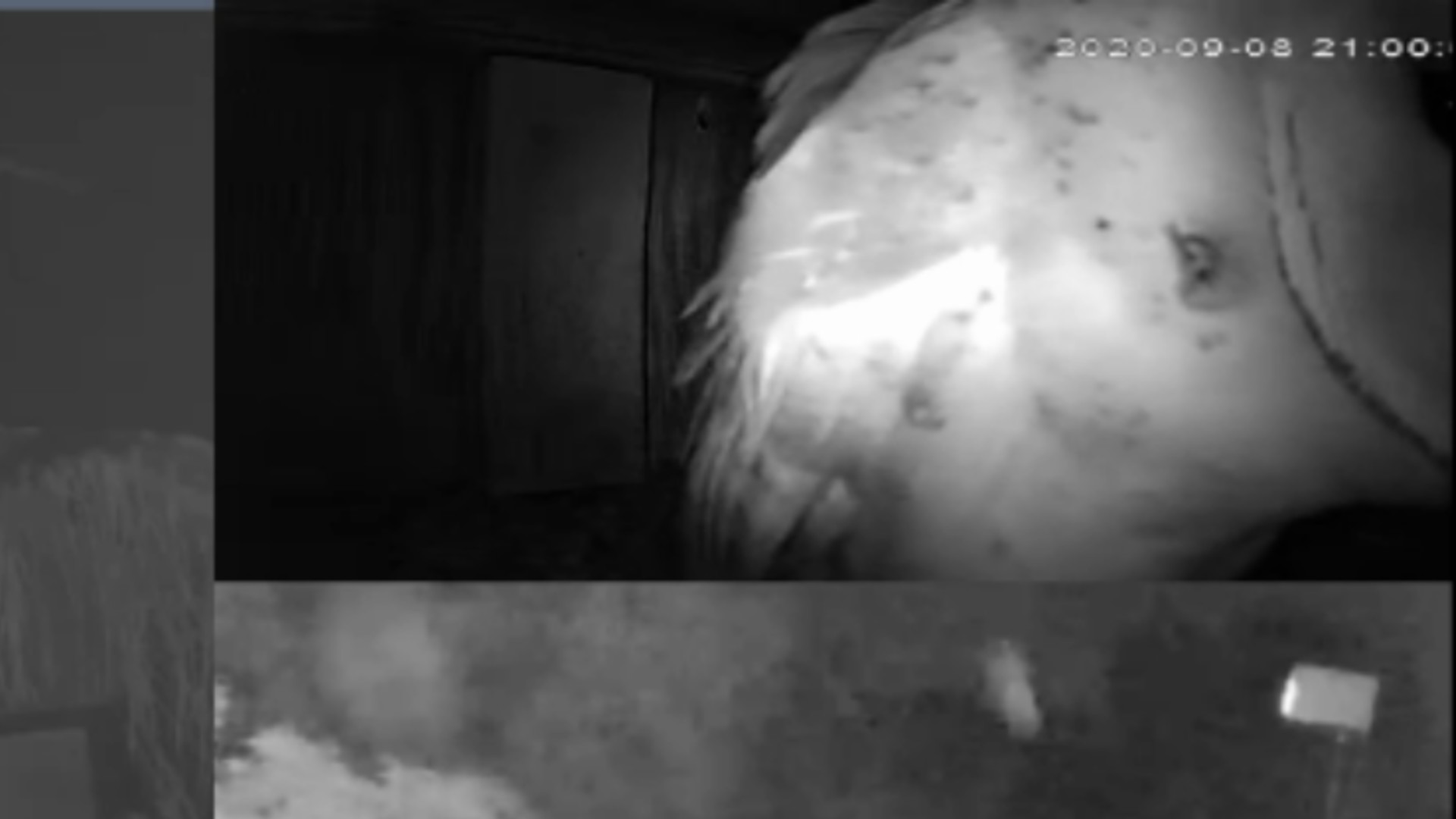 Sept. 17 – Babies no longer come around
Gerald & Gertrude are both around at night occasionally coming in the box
Sept. 23 – Gerald calls Gertrude back into the box
Oct. – Gerald is around more than Gertrude – She comes around less & less
Oct. 18 – New Box Installed - Both come to check it out
Nov. 1 - Someone goes to the water bowl in the chicken yard
Nov. 8 - Newbie curious of the new nest box - attempts to get in
Nov. 9 – Newbie visiting the nest box – Looks like a young male. We think it's Giovani!
Gertrude not happy - a bit of a stand off!
Nov. 10 – Gerald & Gertrude are trying to help newbie to understand he is not welcome
Newbie comes inside the box
Nov. 11 - Someone looks like its hunting - possibly Gertrude
Nov. 12 - New Female comes to the box. We think it might be Galaxy!
G & G drive intruder away!
Nov. 15 - Newbie is still hanging around - Gertrude chases off
Nov. 18-19 - Young owlets still hanging around
Nov. 22 - Gertrude hunts at the duck water bowl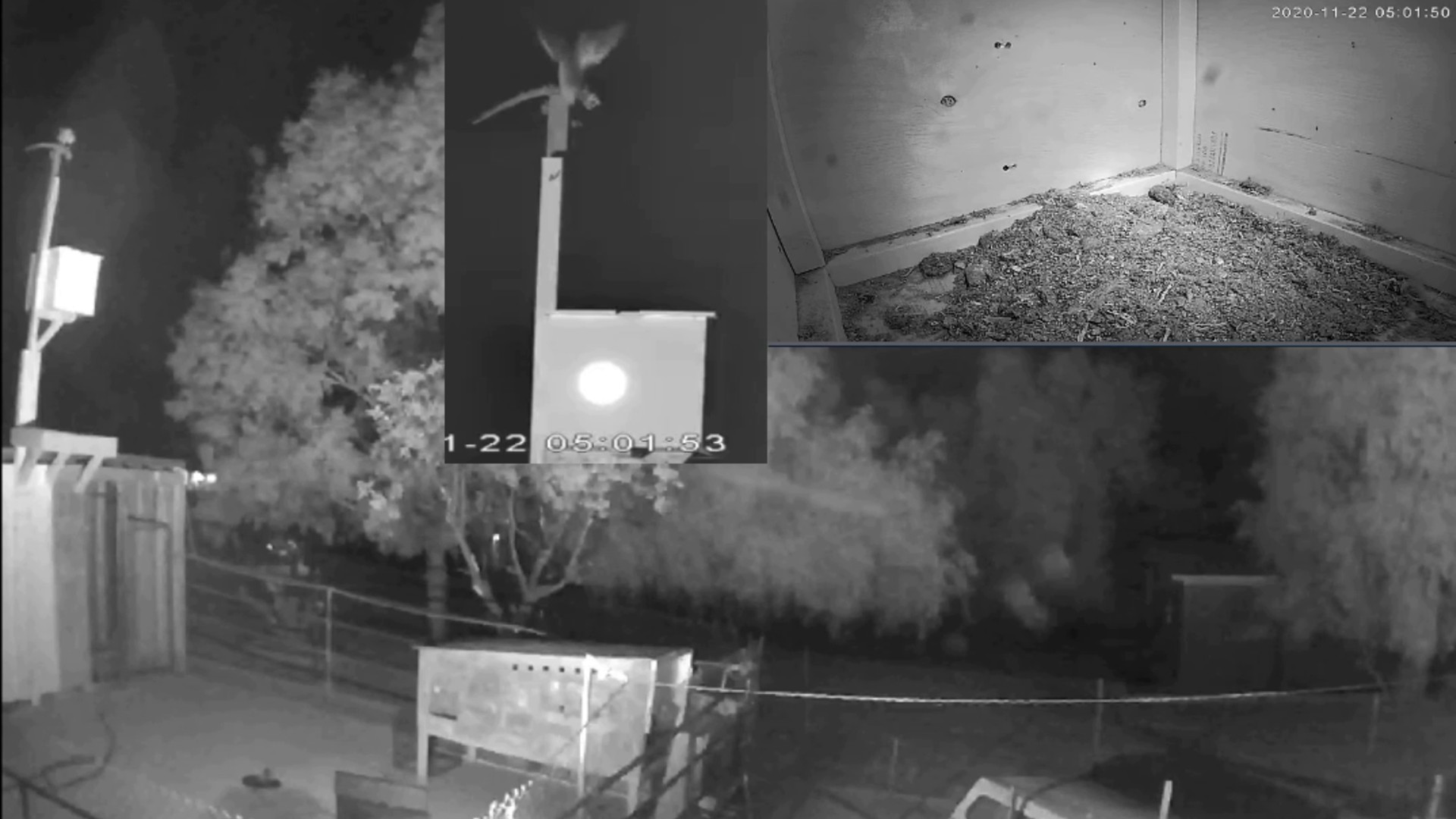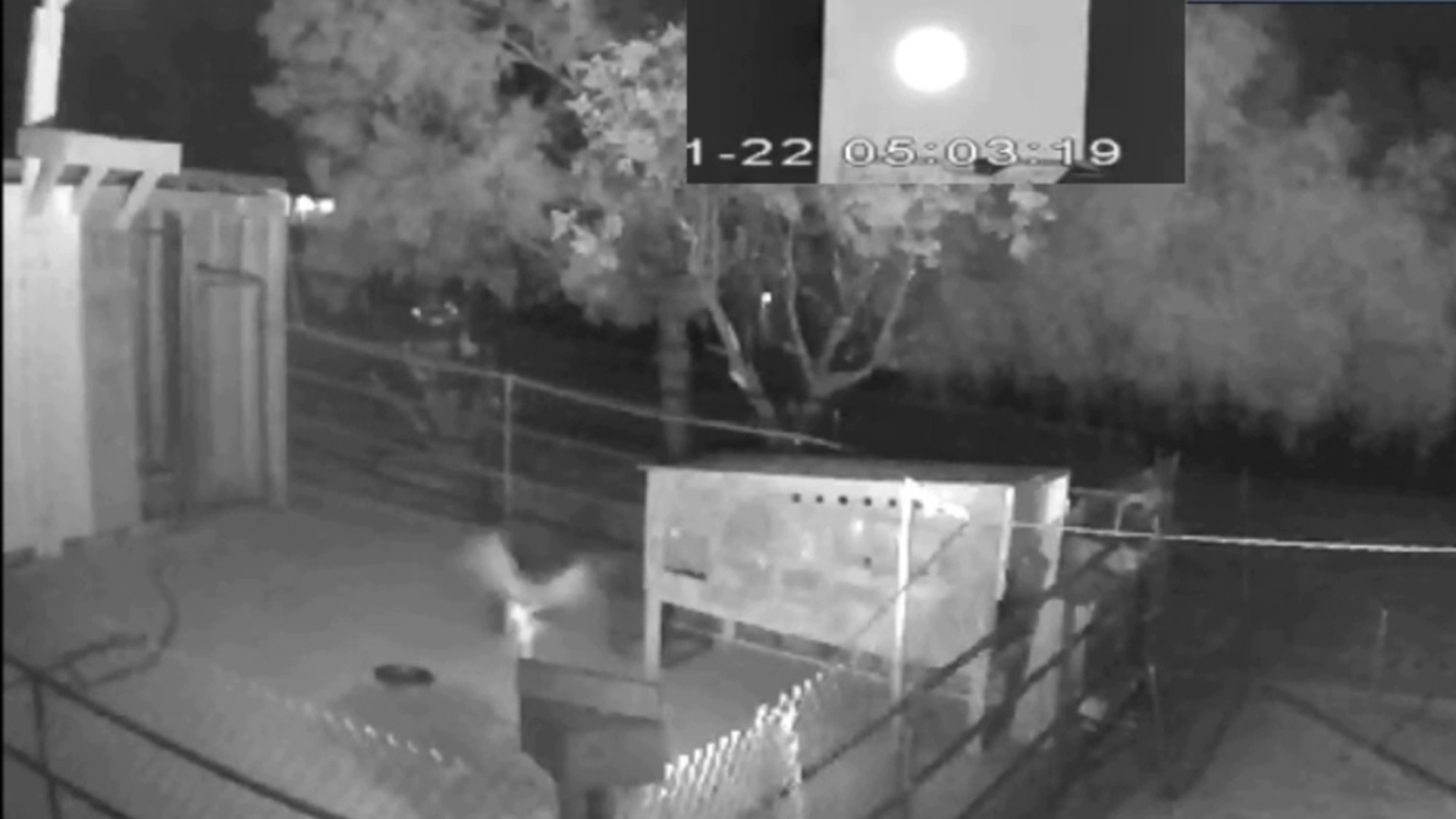 Nov. 23 - Another hunt from the perch
Later - New female in the box again
Nov. 25 -  G & G are hanging around the nest more - keeping an eye out
Nov. 28 - Another hunt but outside box cam was frozen - keep an eye on the large picture
Nov. 30 - Another strike at the duck water bowl
Dec. 1 - Lots of drinking from the water bowl tonight 
Someone is thirsty tonight! They make 4 trips to the water bowl. This clip only includes 3 of them
Dec. 2 - Gertrude seems to be attempting to hunt off the fence
Dec. 3 - Another attempted hunt off the fence
Dec. 5 - Well, it's been quite a busy night tonight around the nest box! Our new little visitor came back to the nest box again.
We believe it might be Giovani because it looked like him later in the box.
He gets chased around by either Gerald or Gertrude all night off and on!
Keep your eyes out in the left corner of the large area over the barn and perch area! They are flying around a lot in this video!
Also, Gertrude (we think) hunts off screen!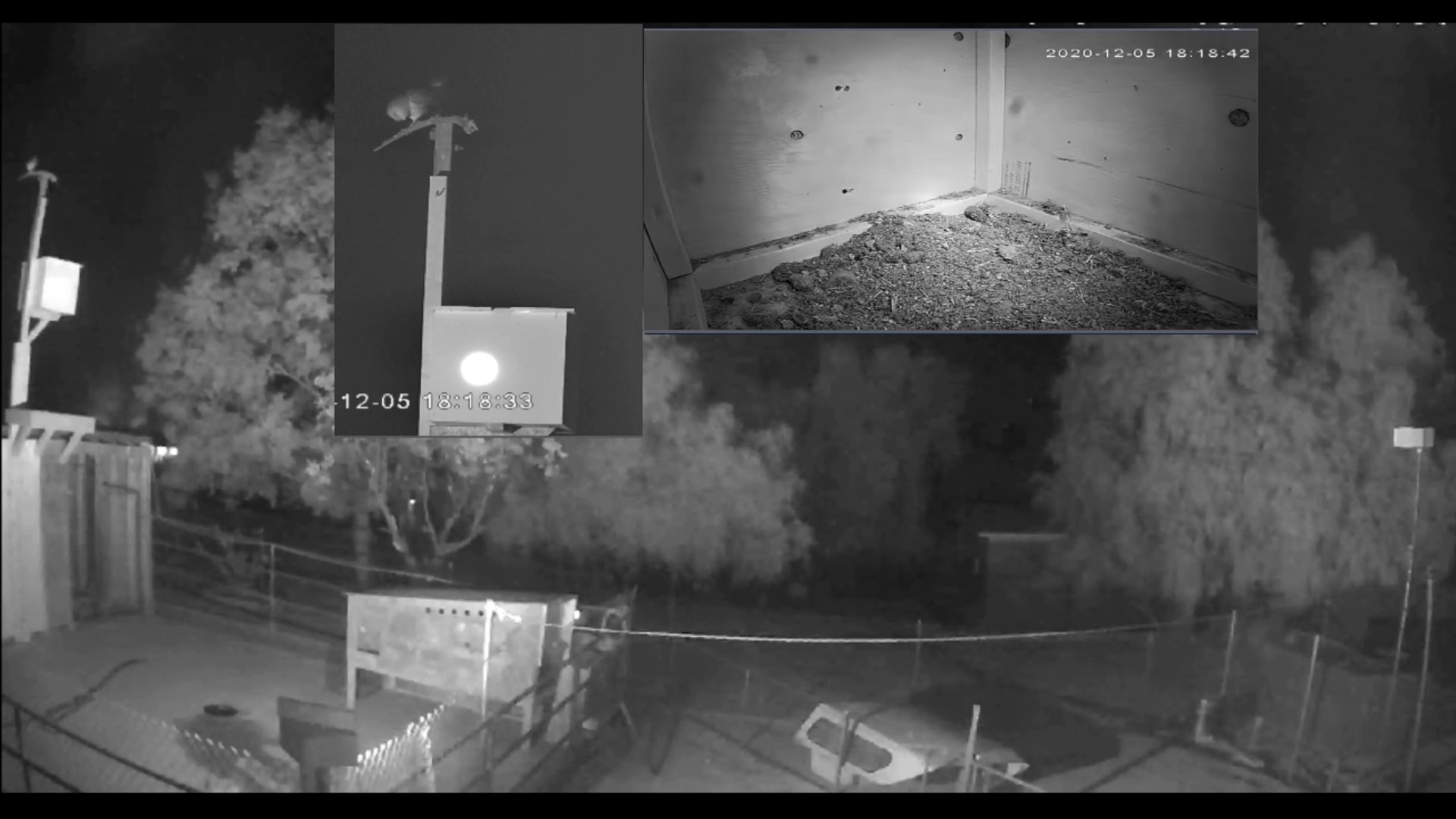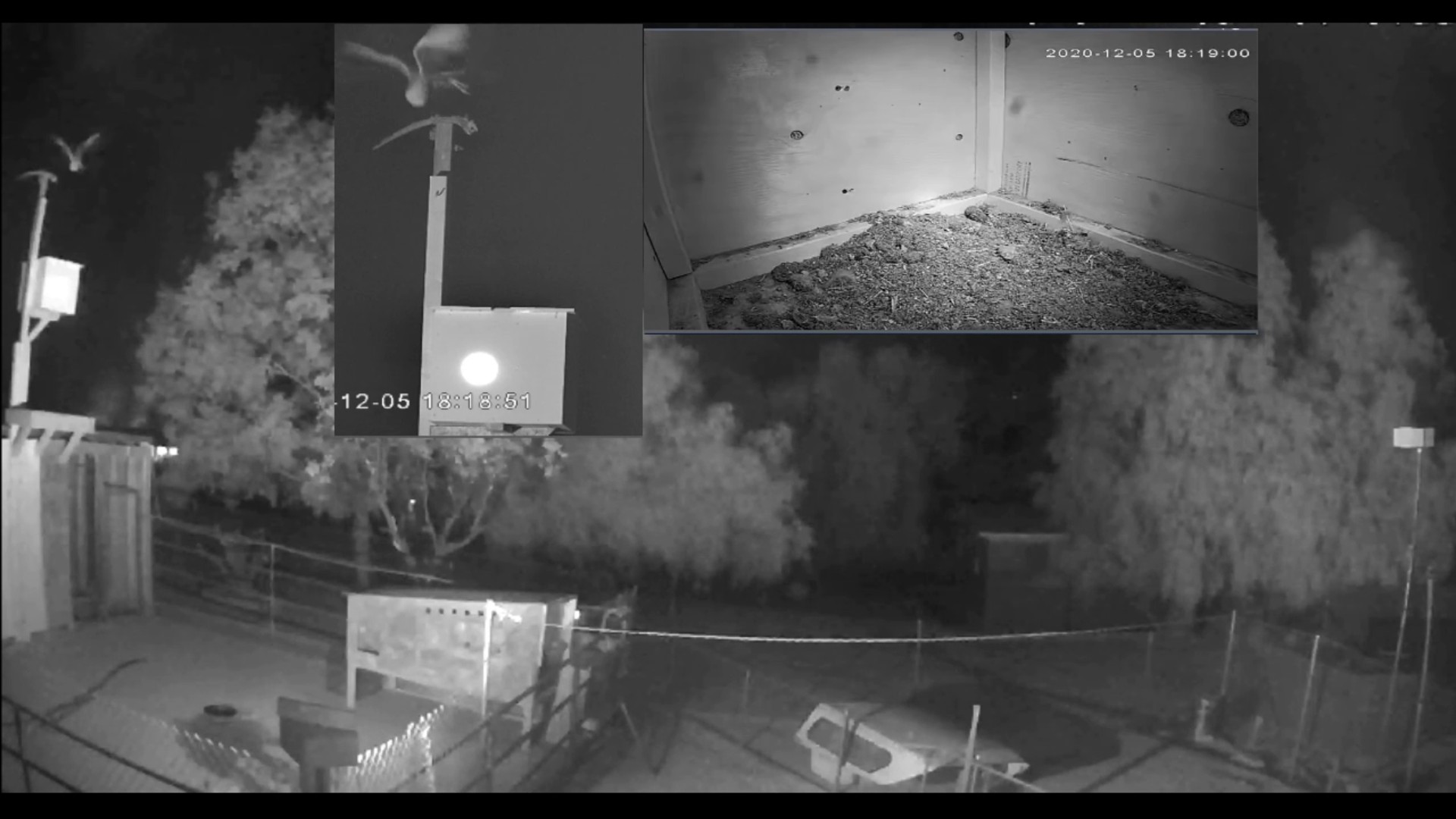 Dec. 7 - So, we were looking through the feed and happened to see some movement down around my piggy's pen.
Caught a little video of someone landing in her pen by her water bowl seemingly to get a drink of water, then it flies over to our new perch and sits for a bit.
It was kind of different behavior than we've seen before, so we thought we'd go ahead and capture it!
Dec. 19 - 1st Mating at the box!
Dec. 23 - Newbie gets chased away again!
Dec. 26 - Gerald & Gertrude in the box for some snuggles!
Dec. 29 - Chase scene with intruder again!
Intruder chased off again later on! He's sure persistent tonight!
Gertrude & Gerald mate in box.
Dec. 30 - G & G are spending more time at the box. Definitely, keeping an eye on  it!
G & G mate 3x during the night.
Dec. 31 - Couple spends a lot of time in box!
Jan. 2 - Gerald & Gertrude are looking like they are moving closer to nesting time:
Lots of time in the nest
Snuggles
Mated 7x tonight! Wow!
You can also find our other fun owl video clips there